---
Québec-based Syntax Systems and Beyond Technologies to Join Forces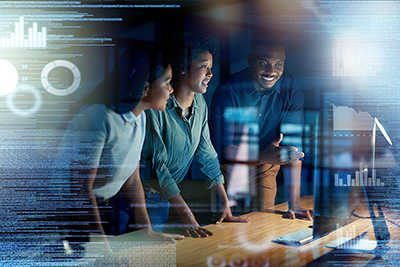 Syntax Systems, a leading global technology solutions and services provider for cloud application implementation and management, today announced its plans to acquire Montréal-based Beyond Technologies, and its subsidiaries. Beyond is a professional services firm specialized in SAP® solution integration and business performance optimization, with operations in Canada, the United States, France, Morocco and South Africa. The combination of Syntax and Beyond is expected to create a team of more than 2,800 experts serving more than 900 mid-market and large enterprise clients globally, with 26 operations across the Americas, Europe, Africa, and Asia.
"Beyond Technologies has a stellar reputation for professional services excellence and SAP ecosystem mastery," said Christian Primeau, Global CEO of Syntax. "Beyond Technologies is home to an entrepreneurial culture that attracts the best-and-brightest technology experts who are passionate about what they do and driven to deliver outstanding outcomes for clients. A guiding principle for all Syntax acquisitions is prioritizing culture fit. We're enthusiastic about the people-first, customer-centric mentality shared by Syntax and Beyond and excited to bring the talent and energy of these teams together to better serve our clients," said Primeau.
Industry specialization in the mid-market is a particular focus for both Syntax and Beyond Technologies. Both companies offer complementary industry-focused solutions for manufacturing, as well as natural resources that further capabilities in this space. The joint portfolio of industry-specialized offerings will also include construction, retail, consumer industries, life sciences and the public sector.
"Syntax has been delivering comprehensive technology solutions and services for a remarkable 50 years. The portfolio of enterprise applications, cloud platforms, technology practices and industry specialization are the ideal complement to Beyond's expertise in SAP solution integration and business transformation," said Luc Dubois, Partner and CEO of Beyond Technologies. "We're excited to join the Syntax family of talented people, and we're very optimistic about how this enhances the outcomes we'll achieve for clients and allows us to continue to deliver value, with increased scale."
As the technology landscape for mid-market and large businesses becomes increasingly complex, more organizations require multi-cloud, multi-ERP, and enterprise application expertise. In addition to SAP, the combined Syntax and Beyond Technologies solution portfolio will include a diversified portfolio of cloud and unique, industry-specific intellectual property.
"Novacap is proud to support Syntax's acquisition of Beyond Technologies, highlighting our belief in their leadership within the application management and cloud services sector. Syntax's success in expanding its portfolio underscores the potential for value creation. As committed partners, we're dedicated to advancing Syntax's growth on the global technology stage," said Pascal Tremblay, President and CEO, Managing Partner at Novacap.
"There's a sense of hometown pride with this announcement," said Primeau. "It's a great story about the strength of two Québec-based technology companies joining forces on the global stage with the backing of a leading Canadian private equity firm, all based in the province."
"This step is a clear reflection of our belief in the strengths and capabilities that both companies bring to the table," said Ted Mocarski, Chairman of the Syntax Board of Directors. "This strategic move enables us to broaden our global reach while consistently delivering top-tier solutions and services to our clients worldwide."
The acquisition, which is expected to be completed later this quarter, is subject to the customary closing conditions, including regulatory approvals. Until the transaction is completed, Syntax and Beyond Technologies will continue to operate separately. Terms of the transaction will not be disclosed.
National Bank Financial Inc. served as the exclusive financial advisor to Beyond Technologies on the transaction.